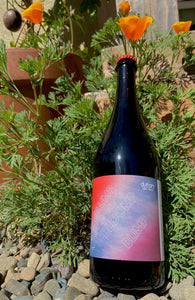 There are only 25 blimps in the whole entire world. There are only 18 cases of this cider in the entire world. That should put things in perspective. This drank squashes free radicals with ease. If it were a blimp they might call it Berries Galore. It's basically a liquid fruit stick without the corn syrup. Strawberries hit hard up front on the nose. The blackberries come and go as they please. Color is stunning. Bubbles are tiny and cute. But in the end this is straight blueberry delight. It's a for sure right on!
Cider from certified organic Gala, Fuji and Newtown Pippin apples rested for 33 days on no-spray Blueberries (Emerald, Jewel and Spring High), Thornless Blackberries and Albion Strawberries.
Maceration: 33 days on berries
Fermentation: Spontaneous 
Vessel: Stainless Steel Tank and Heavyweight Polyethylene
Additives: Sugar for carbonation, 10 ppm sulphur added at pressing of Gala/Fuji apples. 
Carbonation: Bottle conditioned with U.S. grown organic cane sugar 
750 mL bottle  /  8.58% alc. by vol.  
Artwork: bobby dee
Vintage: 2019 
Suggested Spotify pairing:  https://open.spotify.com/playlist/2terPuDczOK4Nwla928mnF?si=QuRaZ567RlGvrLHkuMZj-Q