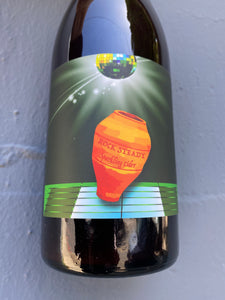 i had a dream i could buy my way to heaven, when i awoke i bought a case of cider. I got some facts for you. Cider...it matters. That's why you need to drink more of it. Stop playin' yo!! Cider today. Cider tomorrow. Cider forever. I am cider. You are cider. We, are cider...and now we're heeeeere. But please, leave your drinks on the railing before entering the dance floor. tasting notes: depth, yum, layers, cukes + pears, showstopper abilities, fruity. 
100% Newtown Pippin apples from certified organic Mann's Five Mile Orchard in Watsonville, CA 
Maceration: 17 days in clay amphora with daily punchdowns
Fermentation: Spontaneous 
Vessel: Amphora
Additives: None
Carbonation: Pet-Nat
750 mL bottle  /  8% alc. by vol.    
Vintage: 2020
suggested Spotify playlist:  https://open.spotify.com/playlist/2EDb8zbkhV6OwWdWtEfcsG?si=81eb6b0fbd154f46