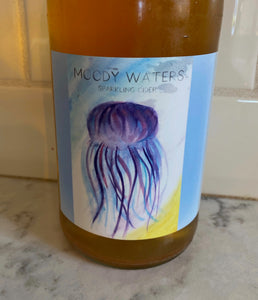 fun little blend of some classic varieties fermented in a clay amphora showing nice and fine tannins, just enough acid zing and juicy yet dry apple fruitiness. no brains were used in the creation of this cider; only heart + soul! made with minimal manipulation, as always.
53% Heirloom apples (Gravenstein, Newtown Pippin) from non-certified biodynamically grown Windrose Farm in Creston, CA and certified organic Five Mile Orchard in Watsonville, CA, respectively. 
47% Bittersharp apples (Kingston Black, Porter's Perfection, Yarlington Mill, Tremlett's Bitter) from non-certified organically grown Kearn's in Dayton, OR
Maceration: Grav - 4 days, Pippin - 2 days
Fermentation: Spontaneous 
Vessel: Amphora
Additives: None
Carbonation: Sparkling (disgorged Pet-Nat)
750 mL bottle  /  7.40% alc. by vol.    
Artwork: Kim Wishon
Vintage: 2020
suggested Spotify playlist:   https://open.spotify.com/playlist/5QSoWwFMBxH8N2rtIU8obf?si=866d8e107a8e4420